Apple Nissan Express Service
If you're in need of certified auto repairs but don't have time to spare, we invite you to visit the Nissan Express Service center at Apple Nissan. From speedy Nissan oil changes and tire rotations to quick multi-point inspections and battery changes, our Nissan dealership in York, PA, can do it all in the blink of an eye. Wondering if you need to schedule Nissan service in advance? That's not necessary at our Nissan Express Service center, as we serve drivers on a first come, first serve basis!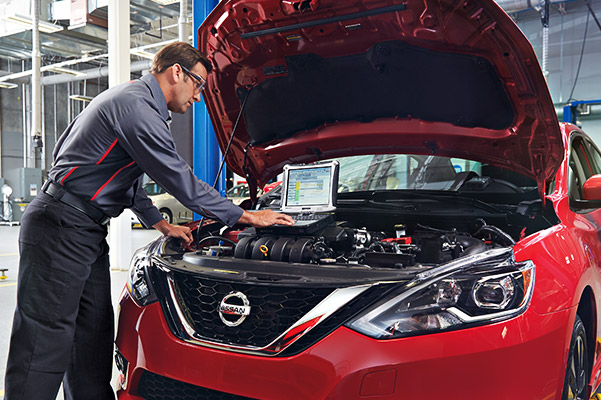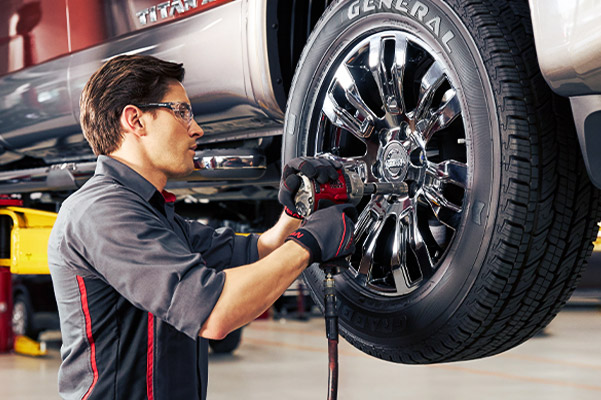 Fast Expert Service You Can Rely On
Whether you need a Nissan brake replacement or full oil change service, rest assured that we're here to make your experience with us as stress-free and efficient as possible. And because our certified Nissan service technicians are true experts in their craft, you can rest assured that your Nissan battery service or tire repair will be completed correctly the first time. As part of Apple Automotive Group, which has served Central PA drivers since 1976, we take pride in providing community members with affordable Nissan service prices and maintenance costs. That means that you'll enjoy the competitive repair costs you deserve when you choose Apple Nissan.
Nissan Tiida by Tigran Hambardzumyan is licensed with Unsplash License
Our team at Apple Nissan values your time and knows how important it is to get you back on the road. This is why we are proud to offer our Nissan Express Service, which allows you to stop by for the appointment you need so you can get back in your vehicle and drive again.
You shouldn't sacrifice vehicle maintenance and service due to your busy schedule, and now you don't have to. You can count on the factory-trained technicians in our service center to evaluate your vehicle, perform diagnostic tests, and give you the service or repairs needed to keep your car running at peak performance.
Our State-of-the-Art Express Service Center
With us, you don't have to compromise quality for efficiency, and you can rely on the expert technicians in our state-of-the-art service center to evaluate your vehicle and perform the maintenance you need quickly. You'll find that we have the finest tools, equipment, and manufacturer-made parts, so you know you're receiving the highest quality service for your car, truck, or SUV.
At our Nissan Express Service center, we take care of drivers on a first-come, first-served basis, so you can stop by for maintenance or repair whenever you have time. Our team is committed to making your service experience as stress-free and fast as possible, so the next time you need an oil change, brake check, or other maintenance, stop by our service center for efficient and effective auto care. With our short wait times and top-notch service, there's every reason to stop by for your automotive service and maintenance needs.
Express Services We Offer
Below is an overview of the services available in our Nissan Express Service center.
Oil Change
When performing express oil changes, you can rely on our technicians to use genuine Nissan parts and the correct motor oil. Oil changes usually take our team 30 minutes or less to complete, meaning you'll be back on the road quickly. Routine oil changes are essential to ensure your vehicle runs properly, so visit our Express Service center to keep your engine in tip-top shape for the many miles ahead.
Tire Service
When you're visiting for an oil change, our technicians can also perform tire servicing on your vehicle, including tire rotations. Routine tire rotations ensure your tread wears evenly and you get the best performance and handling out of your car, truck, or SUV. You can save time by combing these services with your oil change, making it even easier to fit service and maintenance into your busy schedule.
Battery Replacement
You can rely on our team to check your battery, ensure it's effectively charged, and replace it if necessary. As your battery supplies an electric charge to your vehicle's electrical components, it must function correctly. Make sure to have one of our expert technicians check your battery if you think there may be an issue, and rest assured that our extensive inventory in our parts center will have the replacement battery you need.
AC Repair
We know how important it is to have a functioning AC system, especially during summer. Stop by our Express Service center, and one of our technicians can check and diagnose any issues with your vehicle's AC and perform the necessary repairs.
Fuel Injection Service
Fuel injection service can help prevent automotive breakdowns, increase your vehicle's safety, and reduce vehicle costs in the long run. It can also help reduce your car's air pollution, making this service an environmentally conscious decision.
Transmission Service
Just like an oil change, transmission servicing is integral to routine vehicle maintenance. Our technicians flush out any old transmission fluid from your car, truck, or SUV and replace it with new fluid, so your vehicle continues to run correctly.
Engine Repair
If you're having engine troubles, stop by our Nissan Express Service center. Engine servicing and repair, which may include air and fuel filter replacement, spark plug wire inspection, and spark plug replacement, can help prolong the life of your engine and vehicle. Your engine is a critical component of your car, truck, or SUV, so you must keep it in good condition to stay safe on the road.
Amenities
Another major perk of visiting us at Apple Nissan is the amenities we offer while you're waiting for your vehicle repair or maintenance. While our expert technicians are working on your car, you can relax in our service lounge, which includes Wi-Fi and free snacks. You can even work while you wait, making it easier to fit a service appointment into your schedule.
Why Choose Apple Nissan?
At Apple Nissan, we're proud to offer speedy services at competitive prices so you can make the most of your visit and receive fair rates from our technicians. We also provide affordable rental cars if you need one while you're waiting, so if your service appointment requires additional time for repairs, you won't have to worry about transportation.

If you have questions about our Nissan Express Service center, contact us online at 877-820-5920 or stop by our dealership in person. We value your time and money, so check out the Nissan service coupons we offer to get the best possible deal on your vehicle's maintenance or repair.