Keeping your car's brakes in good condition isn't always easy. That's why it's essential to have somewhere reliable to take your vehicle for all its brake service needs. Luckily, as a driver in York, Pennsylvania, you can always turn to Apple Nissan. We have a cutting-edge service center and a team of highly trained technicians. This means we can provide exceptional brake service for your Nissan vehicle anytime you need it.
What services do we here at Apple Nissan of York offer? And what should you look for to determine when your car's brake system needs maintenance? Read on to get all the information you'll need.
Schedule Service Today!
What Does Brake Service Include?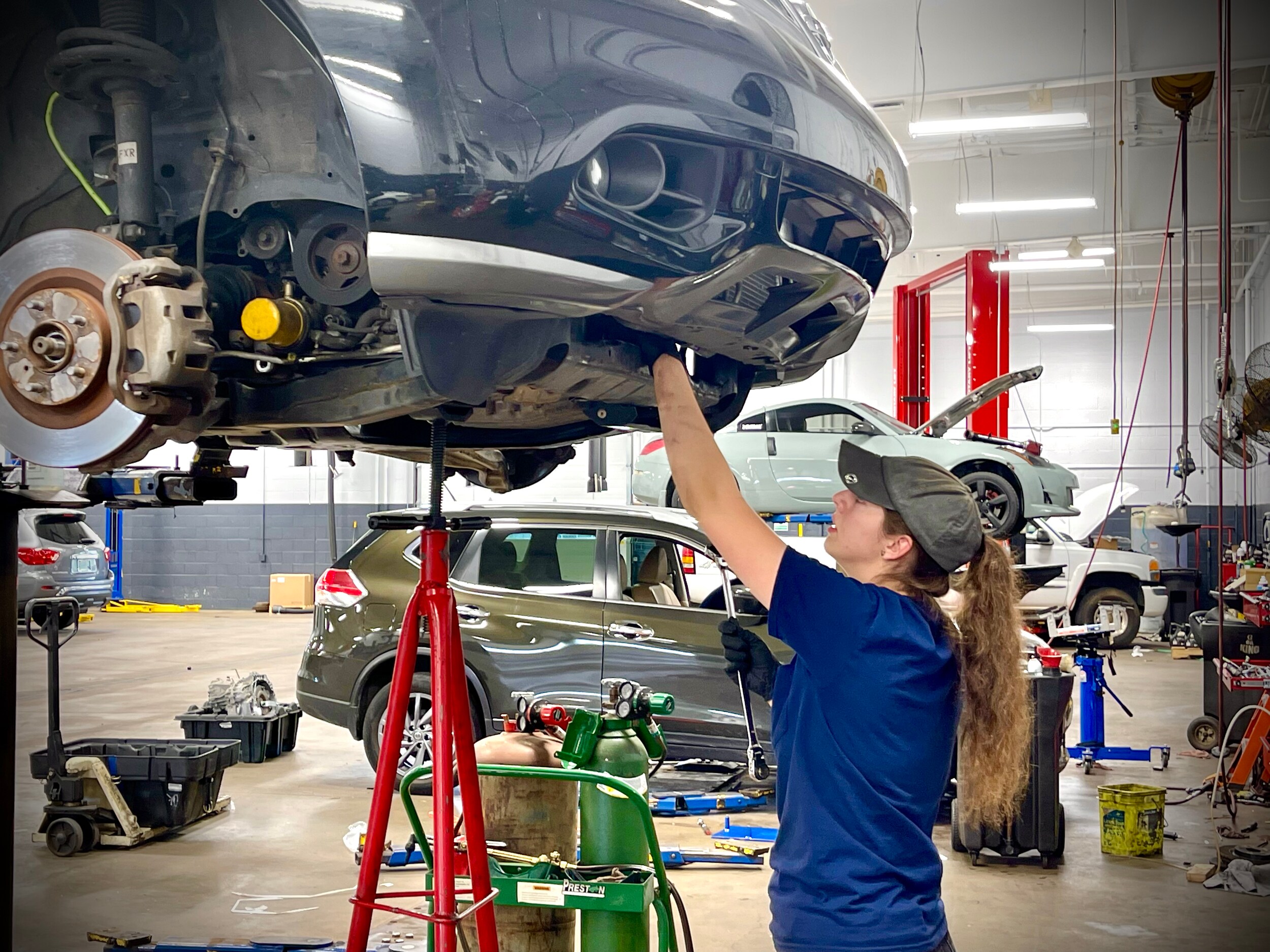 Brake services at Apple Nissan can include many tasks. One of the most common is the replacement of brake pads. Brake pads wear down over time, requiring replacements to ensure they provide the best traction for stopping. Along with brake pad replacement, brake services can also include inspection of the brake rotors. Your brake rotors can also become warped or worn down, resulting in rough vibrations as you drive.
Finally, brake services also include inspecting your brake fluid lines and levels. Our technicians will ensure you have enough brake fluid within your system. They'll also check to make sure there are no signs of a leak along your brake lines. We can install new brake lines to solve the problem if we detect any leaks.
Signs Your Car's Brakes Need Servicing
How will you know that your Nissan's brakes need attention? There are several warning signs to watch for. These include the following:
A Soft or Spongy Brake Pedal
Your car's brake pedal should feel firm under your foot when you press it. Does yours feel soft or spongy, or do you have to push it to the floor? If so, this could indicate moisture or air in the brake system. It could also mean there's a problem with the master cylinder. Either of these potential issues can affect whether you can come to a stop safely. This makes it crucial that you bring your vehicle in for service immediately.
Vibration in the Steering Wheel When Braking
Warped or uneven rotors on your car usually happen when one part of the rotor is thinner. You may have this problem if you notice that the brake pedal or steering wheel vibrates or pulsates when you use the brakes. This lowers your brake's overall effectiveness. Resurfacing the brake rotors may solve the problem. If not, your vehicle may need entirely new brake rotors.
The Brake Light Comes On
Several different things may cause your car's brake light to come on while you're driving. First, check to ensure you don't have the emergency brake engaged. If you can rule that out, the other possible causes include being low on brake fluid and having an issue with the ABS. Whatever the cause is, you should seek immediate help from an experienced technician. For safety reasons, avoid driving your car and arrange for a tow truck to retrieve and deliver it to your nearest auto service center.
A Burning Smell While Using the Brakes
You may notice a burning smell while driving your vehicle. If you smell it while engaging your car's brakes, it could be a sign that the brakes have overheated. As soon as you notice the smell, you should pull over, stop the car, and check what is causing it. Otherwise, you risk potentially causing the car's brake fluid to boil. This creates air bubbles in the brake system, which can cause brake failure.
A Delayed Stopping Response
Finally, the most important job of your brakes is to stop your vehicle immediately. If you think it's taking longer for your vehicle to stop than it used to, the cause is likely your brakes. You may have worn down brake pads or a leak in your brake fluid line. Our technicians can diagnose the issue and return your vehicle to its normal stopping power.
Benefits of Regular Brake Service at Apple Nissan
There are several benefits to getting regular brake service for your vehicle. These include the following:
Keep You and Your Vehicle Safe
The biggest reason to schedule regular brake service is to keep you safe. Without reliable brakes, it's more likely that you'll find yourself in an accident. This can hurt you and anyone else in the vehicle and cause significant damage to your vehicle.
Avoiding Unnecessary Expenses
Regular brake repair service can also prevent future, more complicated issues with your brakes. A professional brake repair service at Apple Nissan can save you a lot of extra expenses down the road.  They'll address a potential problem before it gets any worse. Apple Nissan also has all the necessary original equipment manufacturer replacement parts for optimal efficiency.
Improving Fuel Economy
When you have to apply the brake more than normal, this uses more of your vehicle's fuel. As a result, you'll have lower fuel economy, which leads to more stops at the gas station and more money spent at the pump. Gas is expensive enough as it is, so save yourself some time and money by scheduling regular brake service.
Peace of Mind
When you bring your car for service at our York, Pennsylvania, dealership, our Nissan-trained mechanics will carefully check the brakes. Our mechanics receive a high level of training, so they're experts in repairing any issues found in your Nissan. They've acquired extensive practical experience recognizing and anticipating potential problems. This allows them to address these problems before they become worse.
Once our mechanics service your car's brake system, you can rest assured that everything's been thoroughly checked. You can also count on having no brake-related issues that could cause trouble in the foreseeable future.
Book Your Next Nissan Brake Service Appointment at Apple Nissan
Are you experiencing problems with your brakes? Or has it just been a while since your last brake service? If so, contact us to schedule your Nissan brake service appointment. You can also visit our service center at 1212 Loucks Road, York, Pennsylvania. Our highly trained team of Nissan mechanics will work on your vehicle as they would their own.
We offer free pickup and delivery, so you won't need to disrupt your day to bring your Nissan vehicle to our service center. You can also check out our service specials for ways to save on other common services.