Purchasing a car is a decision that can rightfully stump anyone, as there's a lot to consider. One of the biggest debates that might be weighing on your mind is whether to buy a new car or a used car. Here at Apple Nissan in York, PA, we want to help you make the most informed decision possible. Below, we've highlighted the benefits of buying new and used vehicles so you can make the choice that's right for your circumstances.
Should I Buy a New Car?
Pro of Buying New: You Can Customize Your Vehicle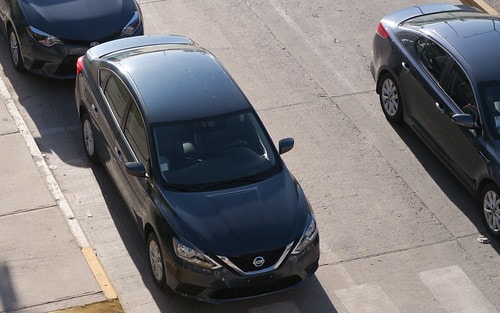 ?
Image via Flickr by RL GNZLZ
When you buy a new Nissan vehicle, you have various vehicle options to choose from that come straight from the manufacturer. However, you also have the choice to customize your vehicle however you'd like. You can choose from different exterior colors, interior seating options, and trim levels. You may also order a vehicle with tinted windows. If you're interested in ordering a custom Nissan vehicle from Apple Nissan in York, you can submit an inquiry today.
Pro of Buying New: You're the First Owner
There are many hidden benefits of being the first owner of a new vehicle that many people might not think about. You don't have to worry about a funny-smelling interior or scratches and dents on the exterior. You're also the first person to drive the vehicle, so you don't have to worry about the aftermath of bad driving habits.
No one will have driven the vehicle too quickly over speed bumps or frequently slammed on the brakes. At most, the only driving history the car will have was when potential customers took the car for a few laps around the dealership. You can rest assured knowing that your car has a clean history, and you can make the effort to partake in safe driving habits to preserve its brand-new condition.
Pro of Buying New: Your Vehicle Comes With the Latest Gadgets
A brand-new Nissan vehicle will often come with the latest gadgets and gizmos. For example, an older Sentra may only have heated seating for the driver, while a newer one might have the same feature for all passengers. In a newer Nissan vehicle, you can also gain access to the latest multimedia and navigation systems without having to add a custom system after you purchase the vehicle.
Pro of Buying New: Your Vehicle Has a Better Fuel Economy
If you want to get more bang for your buck when it comes to fuel efficiency, buying a new vehicle is the way to go. New vehicles typically have better fuel economies, which means you can spend less time fueling up at the gas station and more time on the road. With newer vehicles, there are also more options of EV and hybrid models available, so that you can lessen your environmental footprint. Take the latest version of the Nissan Leaf, for instance. It can travel more than 200 miles on a single charge and doesn't use any gasoline.
Pro of Buying New: Your Vehicle Has an Untouched Warranty
When you buy a new vehicle, you get an untouched warranty. All the warranty's conditions are still intact so that you can reap all of its benefits. If you purchase a used vehicle, the warranty may offer limited coverage. This means that you may have to front the cost of repairs yourself, which can quickly become expensive. Instead, you might consider purchasing a new vehicle that comes with a comprehensive warranty.
Pro of Buying New: You Get Access to More Safety Features
As cars become more advanced, they often come with more intricate safety features. Stability control and tire pressure monitoring are a few features that come standard with most new vehicles. Other technologies like adaptive cruise control, blind-spot monitoring, and lane-keeping assist are becoming more commonplace in newer vehicles. These technologies are often available at no extra cost to the consumer as they're becoming less expensive to incorporate.
Should I Buy a Used Car?
Pro of Buying Used: You Minimize Depreciation
All cars depreciate in value, but new ones are especially susceptible to losing their market value. A new car experiences its greatest depreciation during the first year of ownership, as it loses up to 20% of its value. After that, a car typically depreciates 10% each year. When you buy a car that's older than one year, you don't have to inherit its greatest depreciation rate, as it would've already occurred.
Pro of Buying Used: You Pay Less
Used cars are often much cheaper than new cars. A used car can be a good starting vehicle for a student or a family who's on a budget. You can also opt for a used car to get a higher-end model with luxurious features without paying top-dollar for the latest version. Be sure to browse our inventory of used Nissan vehicles under $15,000 if you're looking for an affordable pre-owned car or truck.
When you buy a used car or truck, you won't only pay less for the actual vehicle. It's likely that you'll also pay less for a used car's auto insurance. Used cars are typically cheaper to repair, as they don't incorporate fancy technology that's expensive to repair. For example, consider a bumper repair on a used car versus the same repair on a new car. It may be much more expensive on a new car, as a new car is more likely to have a bumper that's expensive to repair because of all the sensors it may have.
Pro of Buying Used: You Can Buy Designs That Are No Longer Available
While you can't order a used vehicle exactly how you want it, you have access to various design choices. If you enjoyed a vehicle package or a wheel design that the manufacturer no longer offers, you can still find it in used vehicles. You can trade in your current vehicle at Apple Nissan to get the one you've been on the hunt for, or you can talk to the folks at our finance center to discuss payment options.
No matter if you're buying a new or used car or truck, our team at Apple Nissan in New York can help you find your dream vehicle. Get in touch with us today or visit our dealership in person to test drive any of our available vehicles.