York County in Pennsylvania is a beautiful community boasting a lush and storied past with a forward-thinking present. During any season, you'll find a number of interesting and exciting places to visit and events to attend in White Rose City. Whether you are from here or just visiting, if you have a list of things to do, planning your day or weekend can be easy. Whether you like art, history, shopping, or nature, there is something for everyone. Read on to learn about our suggestions of top things to do in York, Pennsylvania.
York County History Center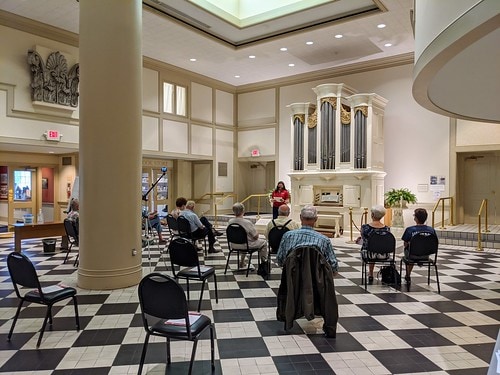 Image via Flickr by governortomwolf
The York County History Center is a tourist favorite and a source of local pride. Housed in a former 1921 automotive dealership, the York County History Center is home to many exhibits that recount the history of Pennsylvania's York County. The displays range from the early American period, the Civil War era, and fine and decorative arts. The center focuses on the history, culture, and people of the community. They host several special events and running programs meant to support the community, educate, and instill a sense of pride. Upcoming events hosted by the center range from "Family Day: Made in York" to "York's Rosa Parks: Daisy Myers and the Quest for the American Dream."
The History Center comprises the Historical Society Museum at 250 E. Market St., the Agricultural and Industrial Museum at 217 W. Princess St., and the Library and Archives on East Market Street. Other locations of interest include seasonal stops like the Golden Plough Tavern, the Fire Museum, and the Bonham House. The Library and Archives are open Tuesday through Thursday from 10 a.m to 4 p.m., but check the website for restrictions or to make an appointment.
The administrative building is at 205 E. Market St. For information or to schedule a group visit, call 717-848-1587.
Central Market House
Central Market House, the red brick building standing at the corner of North Beaver and Philadelphia Streets for over 120 years, is a visual reminder of York's storied history and anchors the revitalization of downtown York. This beautiful building is presently a commercial operation for local farmers and artisans to sell their goods and a gathering place for the community. Typically buzzing with activity, Central Market House has become the heartbeat of White Rose City.
Market days in York feel different. You can easily swing by the market on your way home from work to grab a few fresh ingredients for a healthy dinner. Parking nearby is easy to get to and local vendors are happy to sell their products. The money you spend here goes back into the community, supporting local businesses and your neighbors. On the first Friday of each month, the markets are abuzz more than usual. You'll hear live music blasting through the area, local artisans gather their best work hoping to get noticed, and neighbors socialize and enjoy the downtown atmosphere. Shoppers can find locally grown gorgeous flowers, warm and delicious baked goods, and grab a lunch from one of the food vendors.
Central Market House at 34 W. Philadelphia St. is a local gem. It is an ideal destination to taste the local flavor and experience true York County culture. Hours are Tuesday and Thursday from 7 a.m. to 2 p.m., Saturday from 6 a.m. to 2 p.m., and the first Friday of each month from 5 to 9 p.m. The two nearest parking options are the Philadelphia Street Parking Garage and the Central Market Parking Deck. Parking is free on Saturdays during market hours but regular fees apply at other times. For information, call 717-848-2243.
York County Heritage Rail Trail
The York County Heritage Rail Trail is a beloved destination for locals and a popular tourist attraction for visitors. The York County Heritage Rail Trail connects our historical downtown York with Maryland's Torrey C. Brown Trail. Heritage Rail Park extends more than 20 miles and features active railroad tracks. The Northern Central Railway frequently uses the tracks so check before crossing along the trail before proceeding.
The trail has a compact stone surface ideal for biking, hiking, running, horseback riding, or walking. In the winter, the trail is a popular site for cross-country skiing and snowshoeing. Popular features of the trail include the Howard Tunnel, the Colonial Courthouse, and New Freedom and Hanover Junction Train Stations. Each of these sites is recognized on the National Register of Historic Places. Hanover Junction Train Station is a must-see stop. It has been fully restored to the 1863 era. Take a few photos for mementos or as a social media profile picture, and stop at the museum. You'll learn quite a bit about the historical significance of these sights and gain a deeper appreciation for York. For more information, call 717-840-7440.
Perrydell Farm Dairy
Perrydell Farm Dairy is a family-owned and -operated business that prides itself on serving the community of York since 1963. The farm bottles milk and makes ice cream on site. Sitting on 170 acres of rolling landscape, the dairy makes for a picturesque experience and an interactive learning opportunity. Guests can take a self-guided tour, pet the calves, and create a one-of-a-kind sundae.
You'll find the farm at 90 Indian Rock Dam Road. Farm hours are Monday through Saturday from 7 a.m. to 9 p.m. and Sunday from 11 a.m. to 6 p.m. For information, call 717-741-3485. You can also email milk@perrydellfarm.com.
So there you have it. Apple Nissan has just shared with you our top six picks for things to do in York, Pennsylvania. The next time you feel like getting out and about in York, consider treating yourself to a visit to one of these fine locations. What do you think of our list of suggestions? Did we miss your favorite location or event in York? One White Rose City locals love? If we did, let us know! Leave us a message and we'll be happy to check out your ideas.