York, Pennsylvania, is rich with history and attractions sure to delight visitors and locals alike. Whether you're a resident, a guest, or just passing through, there are lots of things to do and see around York. Discovering the history and heritage of our eclectic city, with its beautiful scenery, unique architecture, and long-standing reputation as one of America's leading manufacturing capitals can help you fully appreciate all that York has to offer.
Learn some fun facts about York, discover how its historic roots have influenced its modern industry, and uncover some local attractions to enjoy in our city as you come to appreciate all the remarkable things York is known for.
Discover York's Historic Heritage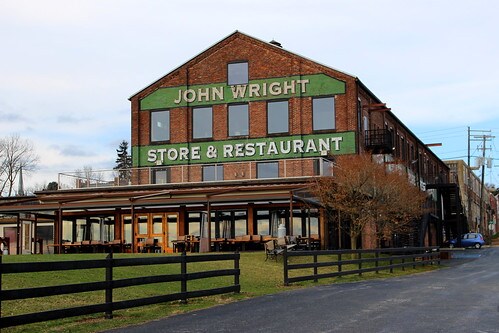 Image via Flickr by France1978
Did you know York was our nation's first capital? Founded in 1749 after splitting from Lancaster County, York served as the capital of the United States for nine months between 1777 and 1778. It was the first county established in Pennsylvania west of the Susquehanna River, and it's the birthplace of the Articles of Confederation. Named after the English city of York, our town is also known as the White Rose City because the white rose is a symbol of the House of York in England.
Not only was York America's first capital, but it's also home to America's first fair. The York Fair was first held in York City 11 years before the country's founding. In 1765, Thomas Penn, the son of William Penn, granted the people of York a charter to hold the fair. The charter recognized the city's industriousness and celebrated its flourishing by allowing the people to host a two-day agricultural market. Now called the York State Fair, the annual festival still attracts thousands of attendants, and the fairgrounds host over 160 events every year.
Learn About York's Modern Industry
York is rightfully called the Snack Food Capital of the World because many food manufacturers make their home here. Both Snyder's of Hanover and Martin's Snacks have their headquarters in York. And the town has been contributing to the snack market for years, highlighted by the creation of the York Peppermint Patty in 1940 and Stauffer Biscuit Company's invention of animal crackers in 1871. Adding to York's innovative legacy is Phineas Davis's creation of the first coal-powered locomotive in 1832 in York.
Because of its focus on manufacturing, York's tagline is "Have it made here." Many local factories and manufacturing plants offer year-round visitor tours. Come see how your favorite snacks and products are made. Enjoy samples while getting a behind-the-scenes look at what it takes to produce the manufactured goods you know and love. Alternatively, tour some of the local artisan shops to see how York's skilled residents create expertly hand-crafted goods. For example, make your own bath bombs at Sunrise Soap Company or view handmade instruments at Bluett Bros. Violins.
Visit the York County History Center
The York County History Center inspires visitors to explore the history, people, and culture of York. It's run by a nonprofit organization and emphasizes the preservation of the local history and culture. Visitors can browse the History Center's collection of over 90,000 artifacts that document nearly 300 years of history related to York and the United States. The History Center includes several museums and a library, and the organization regularly rotates its programs and exhibits.
Stop by the Agricultural and Industrial Museum
The Agricultural and Industrial Museum is a must-see for anyone in the York area. This museum operates as part of the History Center's system of museums, and it offers a hands-on educational experience for guests of all ages. Guests can explore a two-story museum with over 20 exhibits. This attraction highlights the extensive history of agriculture and industrial development around York, which can solidify your understanding of our city's historical significance.
Cruise the Old Town Historic District
Tour York's historic districts to experience a taste of York's long-standing architecture. Indulge in the contrast of new and old as you stroll through our historic downtown. Compare the eclectic architecture of revolutionary, industrial, and modern-era buildings that all stand as a testament to our city's growth and development. As you tour the Old Town District, stop in to support small, local businesses and browse the market to enjoy even more of the local culture.
Shop at Central Market
Located in the Old Town Historic District is Central Market. Open since 1888, this is the oldest remaining market in York. Visitors can stop by to meet local artists, buy fresh produce, listen to live music, and purchase specialty goods that you can't get anywhere else. To fully appreciate our city's offerings, it's important to learn about its local culture. Central Market offers a unique way to manage your shopping while experiencing more of York's history. This can be a wonderful place to spend an afternoon shopping, enjoying local foods, and appreciating street performers in an eclectic atmosphere.
Enjoy a Treat at Perrydell Farm and Dairy
Hoping to get a taste of York? Visit Perrydell Farm and Dairy to learn about our city's modern agricultural production. Extending across 170 acres of land, Perrydell Farm is a leading producer of many local dairy products serving the York area. Learn about what it takes to be a modern dairy farmer and sample a variety of products produced on-site, such as ice cream, butter, milk, and yogurt. This is a hands-on opportunity to learn about the history of agriculture in our town, along with its development into modern production.
These are some of our favorite facts and attractions that embody both the history and the modern landscape of our city. York, Pennsylvania has so much to offer to residents and visitors alike, and we hope that learning more about it inspires you to love it just as much as we do. Did we miss one of your favorite facts about York? Do you have another attraction for us to add to our list? Contact us at Apple Nissan to let us know.